Confidential STD Testing Clinic Q&A
Sexually transmitted illnesses, commonly referred to as STDs or STIs, are extremely common. STDs can be acquired through vaginal, anal, or oral intercourse with an infected person. Sexually active people are more likely to get STDs. For quick, convenient, and confidential STD testing and treatment by our board-certified physician visit PrimeHealth Urgent Care. We serve patients in Parrish FL, Bradenton FL, Lithia FL, Sarasota FL,

Lehigh Acres FL

,

Estero FL

,

Ellenton FL

, and surrounding areas. For more information, contact us or book an appointment online.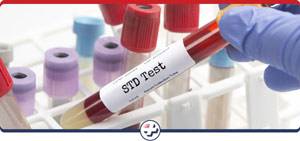 Table of Contents:
What are STDs?
What are the 5 common symptoms of an STD?
How could I know if I have STD?
Do you offer STD testing at PrimeHealth Urgent Care?
Research shows that around one-fifth of the population has contracted an STD at some point in their lives, with the vast majority of STDs that are passed around being very treatable. The majority of these cases remain asymptomatic for some time, making it very important that every person who is sexually active and either has multiple sexual partners, is between sexual partners, or is intimate with someone who has other sexual partners gets tested regularly.
What are STDs?


STD stands for sexually transmitted diseases caused by viruses, bacteria, or parasites which are spread from person to person predominantly through sexual contact. The diseases are caused by an infection that is brought on from exposure to the virus, bacterium, or parasite and will typically travel via bodily fluids such as vaginal fluids, semen, or blood. The passing of STDs can occur during penetrative sex, both vaginal and anal, as well as oral sex. The most common STDs are fairly easy and painless to treat, options only requiring a round of antibiotics, but if left untreated, can lead to long-term negative effects on the body, specifically the reproductive system. Some STDs are not treatable but can typically be well managed with proper treatment. Testing for the most common STDs is straightforward to complete, making regularly getting tested a convenient but essential process for ensuring the safety of yourself as well as your sexual partners.

What are the 5 common symptoms of an STD?


One of the main reasons why being regularly tested for STDs is important is because it is fairly common for people who have contracted an STD to not experience any symptoms, sometimes for years, allowing them to continue spreading the infection unknowingly. The symptoms also vary depending on the type of STD that is contracted and depending on biological sex, but the most common symptoms of an STD include:

• Pain experienced during penetrative sex;
• Discharge from the penis or changes in vaginal discharge (color, odor, or consistency);
• Bumps, lumps, skin growths, or sores localized on the genitals, rectal area, or mouth;
• Pain or burning sensations while peeing; and
• Swelling and soreness in the lymph nodes and groin.

How could I know if I have STD?


If you are experiencing some symptoms that are commonly associated with STDs that have developed no sooner than 4 days after a sexual encounter, or that developed several weeks or even months after a sexual encounter, you may have contracted an STD. There are other possibilities for the cause of the symptoms, so to ensure your health and safety, and to make sure that you can receive the required treatment, it is highly recommended that if there's even a chance you have contracted an STD but you are not sure, you get tested. It is also possible that one of your current or previous sexual partners lets you know that they tested positive for an STD. In any case, if there is a chance that you may have an STD, getting tested will be the only sure way to definitively determine if you have an STD and to receive proper treatment. Testing for STDs will typically only involve providing a urine sample, a blood sample, and a throat, vagina, or rectal swab (depending on which types of STDs are being tested for), all of which will only take a few minutes to complete. If the STD is not properly treated, you will put all of your future sexual partners at risk of contracting the infection as well.

Do you offer STD testing at PrimeHealth Urgent Care?


PrimeHealth Urgent Care provides accessible and convenient STD testing for all of our patients who wish to have it completed. With our on-site testing services and walk-in clinic, patients will be able to receive a full STD panel to check for all of the most common STDs or for specific ones that may be of particular concern in their case in just one appointment and will receive follow-up care once the results from their tests are available. Our urgent care clinic is a safe and affordable option for those who are looking for same-day treatment from qualified health care providers. For more information, please contact us or book an appointment online. We serve patients from Parrish FL, Bradenton FL, Lithia FL, Sarasota FL, Lehigh Acres FL, Estero FL and Ellenton FL, Palmetto FL, Lakewood Ranch FL, Foxleigh FL, Venice FL, Fruitville FL, Wimauma FL, Balm FL, Fort Myers FL, Westminster FL, El Dorado Acres FL, Cascades FL, West Samoset FL, Memphis FL, and surrounding cities.