Pelvic Pain Treatment Clinic in Florida
Lower abdominal discomfort is referred to as pelvic pain. Period cramps, ovulation, or stomach problems could be the cause, but sometimes infections or issues with the reproductive system are the reasons for pelvic discomfort. A person might need to visit a doctor in this situation. PrimeHealth Urgent Care provides treatment for pelvic pain. We have convenient locations to serve you in Florida. We serve patients in Parrish, Bradenton, Sarasota, Lithia, FL, and surrounding areas. For more information, please contact us or book an appointment online.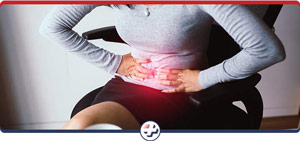 Table of Contents:
How can I relieve pelvic pain?
How long does pelvic pain last?
What can pelvic pain be a sign of?
Does pelvic pain go away?
How can I relieve pelvic pain?


When it comes to finding relief from pelvic pain, different types of pelvic pain will require different treatments. Pelvic pain can be classified as acute, characterized by sudden and severe pain, or chronic, which persists for a span of several months or more.
 
When pelvic pain extends beyond 6 months without showing improvement despite treatment, it is termed chronic pelvic pain. The specific approach to treating pelvic pain hinges on its underlying cause and will be discussed with you by your healthcare provider.
 
Treatment options for pelvic pain encompass a spectrum of interventions, including medication, physiotherapies, or surgical procedures. Some individuals might benefit from a multi-disciplinary approach involving various therapeutic modalities.

The choice of treatment for pelvic pain is contingent on the root cause, the severity of the pain, and its frequency. Medications, including antibiotics, if necessary, are often employed to some extent in the management of pelvic pain. How to relieve pelvic pain will be dependent on the type and cause of pelvic pain among other factors.
 
Visiting an urgent care center such as PrimeHealth Urgent Care is the best course of action to help patients achieve fast relief from pelvic pain. Your physicians can also help coordinate specialist treatments if necessary, depending on the type of pelvic pain.

How long does pelvic pain last?


How long pelvic pain will last depends on a range of factors, including the type and cause of the pelvic pain, the individual's overall health, and treatment. Minor pelvic pain frequently resolves without serious implications, typically improving within a few days.
 
However, if your pain persists or intensifies, further evaluation and treatment may be warranted. Acute pelvic pain is a common occurrence, typically lasting for a few days to a few weeks and often of mild intensity. In females, the causes of acute pelvic pain can often be identified through their timing, particularly regarding the pelvic pain's association with the menstrual cycle or not.
 
In contrast, chronic pelvic pain endures for a duration of 3 months or more, even after the initial injury or underlying cause of the pain has been addressed.

What can pelvic pain be a sign of?


Pelvic pain may serve as a sign of underlying issues within the pelvic region, with various organs potentially at risk. In women, the female reproductive system can be a source of pelvic discomfort, while men might experience pelvic pain related to prostate concerns.
 
Chronic pelvic pain can manifest as a symptom of gynecologic conditions, but it can also surface in association with disorders affecting the bladder, intestines, pelvic floor muscles, or even spinal issues.
 
Conditions such as urinary tract infections, kidney stones, hernias, or gastrointestinal problems are among the diverse range of potential culprits linked to pelvic pain.
 
While some instances of pelvic pain, like those accompanying menstrual cramps, are to be expected and pose no major concerns, others may be indicative of more significant issues necessitating evaluation and treatment at an urgent care center.
 
Given the varied potential causes of pelvic pain, seeking an accurate diagnosis from PrimeHealth Urgent Care is always a prudent course of action to ensure the underlying cause is nothing serious. It is especially important to seek medical attention when pelvic pain is severe or persistent.

Does pelvic pain go away?


Given the broad umbrella of conditions covered under pelvic pain, whether or not it will go away will vary. Some instances of acute pelvic pain are so minor that they can go away on their own without medical assistance.
 
Other causes of acute pelvic pain can require treatment. When it comes to chronic pelvic pain, it can sometimes go away with appropriate care and identification and treatment of the root cause.
 
In other cases, chronic pelvic pain may linger, however, treatments remain available to manage the symptoms and help individuals live a pain-free life.
 
Pelvic pain treatment is available at PrimeHealth Urgent Care. For more information, please contact us or book an appointment online. We serve patients from Parrish, Bradenton, Sarasota, Lithia, FL, Ellenton FL, Palmetto FL, Lakewood Ranch FL, Foxleigh FL, Venice FL, Fruitville FL, Wimauma FL, Balm FL, and surrounding areas.