Laceration Repair Procedure Clinic in Florida
A laceration is a wound that occurs when soft body tissue is torn. It frequently has bacterial contamination. If any bone, tendon, muscle, or fat is exposed in the wound, medical treatment may be required. Contact us now or book an appointment online with our board-certified providers. We have convenient locations to serve you in Parrish, Bradenton, Sarasota, Lithia, Lehigh Acres, Estero, and Ellenton FL.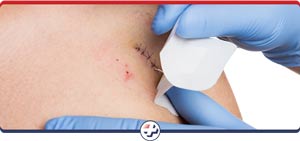 Table of Contents:
How do you fix a laceration?
How long does laceration take to heal?
Can a laceration heal without stitches?
What happens if you don't close a laceration?
How do you fix a laceration?


Lacerations encompass a wide range of skin cuts that can vary in terms of their depth, width, and length, resulting from the tearing of softer body tissues. If you have sustained a tear or incision affecting your skin, underlying tissues, or muscles, laceration repair may be necessary.
 
This procedure involves a series of steps, commencing with the cleansing, preparation, and closure of an open wound. In the case of a straightforward laceration, a patient can typically seek treatment directly at an urgent care facility.
 
The medical team will first clean and irrigate the wound, followed by the application of a sterile solution to prepare the area. Subsequently, in most cases, the urgent care physician will proceed to close the laceration, often with stitches. In some instances, additional evaluation may be necessary, involving the examination of the wound with the assistance of an imaging center. This diagnostic step aims to determine the extent of damage, especially regarding bones, vital organs, ligaments, or cartilage.

How long does laceration take to heal?


The duration of laceration healing is subject to variability, influenced by factors such as the injury's severity, the potential for infection, and the individual's overall health condition.
 
Certain health conditions can significantly impede or halt the healing process, emphasizing the importance of prompt medical attention, ideally at an urgent care facility like PrimeHealth Urgent Care, to expedite recovery.
 
If you have a laceration, stitches may be necessary if they bleed excessively, are particularly deep, possess jagged edges, or expose underlying muscle or fat. Generally, minor cuts tend to mend within approximately two weeks, provided they receive proper cleansing and remain free of infection.
 
However, deeper lacerations can demand several weeks or even months for complete healing and may necessitate stitches and additional medical interventions to avert complications and minimize scarring.

Can a laceration heal without stitches?


While lacerations are often fairly deep, there are instances where stitches may not be necessary. With proper care, most cuts will heal, whether or not stitches are involved. However, certain wounds exhibit improved healing outcomes when treated with stitches.
 
The necessity for stitches is contingent on several factors, encompassing the cut's depth and its location on the body. Proper wound care is crucial in preventing infection, ensuring effective healing, and minimizing scarring. Nevertheless, determining when stitches are needed can be challenging, and it's generally advisable to err on the side of caution by seeking evaluation at an urgent care facility like PrimeHealth Urgent Care to ensure appropriate wound management.
 
Even seemingly minor cuts can result in what appears to be excessive bleeding. Lacerations in specific areas of the body may increase the likelihood of requiring stitches, particularly when the wound opens during joint movement.
 
In such cases, there is the potential for damage to ligaments or tendons. Furthermore, the cause of the laceration plays a significant role in determining whether stitches are necessary. Cuts stemming from objects that could carry bacteria or from animal bites invariably demand medical attention. Similarly, if the cut displays signs of infection, seeking medical care is advisable.

What happens if you don't close a laceration?


When stitches are required for wounds, it is crucial to obtain them promptly to mitigate the risks of infection, a lengthy healing process, and scarring. Seeking timely medical assessment and receiving necessary stitches not only accelerates the healing process but also minimizes discomfort and the potential for infection, thereby reducing various health-related risks.
 
In specific scenarios, a laceration may be intentionally left open, especially when there's a high risk of infection, as closing it could potentially increase the likelihood of infection. When it comes to the best course of treatment for laceration repair each patient's needs and the specific nature of the wound will be considered to ensure the best health outcomes.
 
Laceration repair is available at PrimeHealth Urgent Care. For more information, please contact us or book an appointment online. We serve patients from Parrish FL, Bradenton FL, Sarasota FL, Lithia FL, Lehigh Acres FL, Estero FL, Ellenton FL, Palmetto FL, Lakewood Ranch FL, Foxleigh FL, Venice FL, Fruitville FL, Wimauma FL, Balm FL, Fort Myers FL, Westminster FL, El Dorado Acres FL, Cascades FL, West Samoset FL, Memphis FL, and surrounding cities.